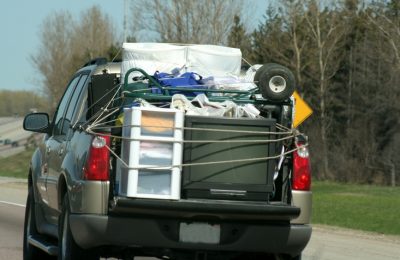 As vehicle operators we all need to learn how to share the road with all types of drivers, and that means those who may not be as conscientious as they should. And being conscientious not only means taking care to drive safely, it also means taking care of your cargo. Unfortunately, it is very common for drivers to take to the road without properly tying down freight carried on the roof, in the bed of a truck or on a trailer. A 2016 study by the AAA Foundation for Traffic Safety reported that over the course of four years, debris lying on roads was the cause of over 200,000 accidents and 500 deaths in the United States.
Whether you are the owner of a private vehicle or a commercial fleet, you are always responsible for the freight you or your employees are carrying. Avoid a ticket and having your Alberta car insurance rates go up by always making sure your cargo is safely secured at all times. The fine for having an unsecured load is $345, and for not covering loose material like gravel or yard debris is $500. If something is actually dropped on a road, the fines can increase.
Cargo Securement Regulations in Alberta
Alberta cargo securement regulations state that all commercial and private vehicles carrying cargo in the bed of a truck or on a trailer must properly restrain their load. The Alberta Government's guidebook titled Module 12: Carrier Monitoring and Intervention (updated March, 2017) states that cargo must not leak, spill, blow, shift or fall from a vehicle on to a road while in transit.
You can use a cargo net, cargo tie-downs, or a combination of a tarp and tie downs to secure your freight. Bungee cords are not suitable to be used as tie downs. Government-approved tie downs must be marked with their working load limit (WLL), which will indicate how much weight they can safely handle before they break.  The WLL of any cargo securement system must be at least half the weight of the cargo being carried (page 9).
The number of tie downs needed for cargo increases with the size of the load:
One tie down is needed for cargo of 500 kilograms or less and 1.52 metres or shorter

Two tie downs are needed for cargo weighing more than 500 kilograms, and shorter or longer than 1.52 metres, but less than 3.04 metres long.

Three or more tie downs are needed for cargo more than 3.04 metres in length
There are very specific securement requirements for items such as logs, dressed lumber, metal coils, paper rolls, concrete pipe, intermodal containers, vehicles, and boulders.
Car Insurance Coverage for Hitting Road Debris
Damage to your vehicle from road hazards including debris from construction or that has fallen from the back of a truck should be covered underneath a car insurance policy that includes collision insurance. Collision insurance pays for damage caused to your vehicle in an automobile accident, such as contact with another car, a rollover, or a collision with a building or inanimate object. Additional examples of incidences in which you may use collision insurance coverage are hitting a pothole or a curb, reversing into another car and when a driver other than you causes damage. The trained insurance brokers at Lane's are able to provide a number of affordable options for car insurance including both collision and comprehensive coverage.
Trucking and Cargo Insurance
Trucking and cargo insurance is also known as transportation insurance, and it falls under the umbrella of commercial vehicle insurance. Coverage can be tailored to protect vehicles, trailers, cargo and storage. Basic cargo insurance covers for the damage or loss of freight during transport by external causes such as an accident that is not the driver's fault, weather and vandalism, and will also include a liability clause. Always ensure your liability limit correctly reflects the value of the cargo you are carrying. Additional transportation insurance options include coverage for theft of cargo, spilled goods requiring cleanup or removal, damage to freight that can't be delivered, and damage incurred while loading and unloading.
If you are the owner of a fleet of commercial vehicles, training is essential. Making sure all of your employees are well-versed on how to safely carry freight is your first line of defense. Being an alert, aware and defensive driver is the best way to avoid hazards on the road.
Questions? Concerns? Trust Lane's for Your Commercial Vehicle Insurance Needs
Trucking and cargo insurance can be very complex, and getting the coverage you need at the lowest possible price is extremely difficult without an independent broker on your side.
The knowledgeable professionals at Lane's Insurance can answer any and all questions you may have about these highly specialized types of coverage. Contact Lane's Insurance today to learn more.